There will be a tidal wave of layoffs in the fast food industry over the next few years, as customer interaction will be increasingly handled by AI instead of people. Entry-level jobs like this are critical to properly induct young people into the workforce. Other customer-facing jobs in jeopardy? Bank tellers, tax preparers, lawyers, financial advisors.⁃ TN Editor
Wendy's is reportedly developing an artificial intelligence chatbot powered by Google's natural-language software designed to automate drive-thrus.
The Wall Street Journal spoke with Wendy's Chief Executive Todd Penegor, who said the fast-food chain's chatbot would be rolled out in June at a company-owned restaurant in Columbus, Ohio.
The Wendy's drive-thru chatbot "will be very conversational," Penegor explained. He said, "You won't know you're talking to anybody but an employee."
Wendy's software engineers have been working with Google to build a large language model to understand words, popular expressions, and phrases in various dialects and accents when a customer orders. It'll understand acronyms unique to Wendy's, like "JBC" for a junior bacon cheeseburger.
"Google Cloud's generative AI technology creates a huge opportunity for us to deliver a truly differentiated, faster, and frictionless experience for our customers, and allows our employees to continue focusing on making great food and building relationships with fans that keep them coming back time and again," Penegor said in a separate conversation about the chatbot while speaking with Gizmodo.
WSJ said the drive-thru chatbot is programmed to upsell customers by asking if they want to combo the order or increase sizes. Once the order is completed, humans operating the kitchen will (which will one day be replaced by robot chefs) prepare the food before being packaged up and stuffed into a bag for pickup at the window.
Wendy's Chief Information Officer Kevin Vasconi told WSJ that the chatbot "is probably on average better" than the company's top customer service reps. He said the chatbot's goal is to improve service speed and consistency at drive-thrus. About 80% of all food orders are placed at the burger chain's drive-thrus.
Besides Wendy's, we have outlined the move by other fast-food restaurants, like McDonald's, to automate stores and replace humans:
There's even been a push by McDonald's to automate a restaurant entirely:
The proliferation of automation in the fast food industry will only mean a tidal wave of layoffs is coming over this decade. According to market research firm IBISWorld, the US has more than 5 million workers.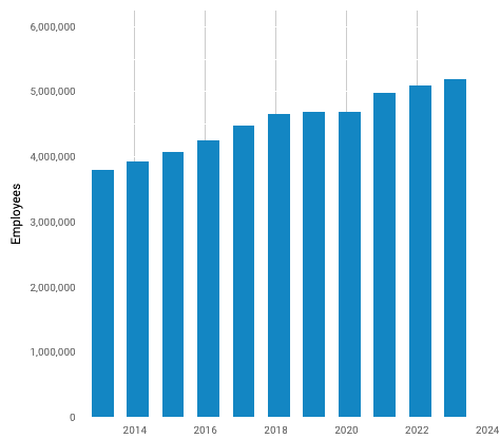 Recall a recent Goldman report (available to pro subscribers in the usual place) that stated, "Two-thirds of current jobs are exposed to some degree of AI automation, and that generative AI could substitute up to one-fourth of current work. Extrapolating our estimates globally suggests that generative AI could expose the equivalent of 300 million full-time jobs to automation" as up to "two thirds of occupations could be partially automated by AI."
In other words, the robots are coming, and jobs will be lost.